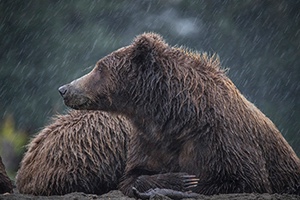 ProMediaGear Katana Jr.
  Today was such a great day at the Idube Photo Safaris Store front.  My friend Tom of ProMediaGear, sent me the new Katana Jr just in time to take it to Africa. I am excited beyond belief to have this beauty for our upcoming safaris to the Okavango Delta and to South Africa. ProMediaGear makes some of the best American Made photography accessories available. Lens Plates, Ball Heads, Gimbal Heads, Carbon Fiber Tripods, L-Brackets, Flash Brackets, and many other amazing items.
Learning a long time ago that it is just not worth buying the cheep stuff, I have decided to invest in only the best gear I can afford. ProMediaGear is a great choice for quality gear. I already own the full size Katana Gimbal head. This beauty lives mostly in Africa where I use it on our safari jeeps while conducting African safari photography workshops. The big brother Katana is perfect for situations  where you are not hauling the unit in a bush Plane and weight has to be taken into consideration. I love using my full size Katana on Safari vehicles where I often use very big glass. It is not uncommon for me to have one camera with a Canon 600 prime and another with a Sigma 150-600 S lens. Often I will be shooting on a Canon 1dxMKII, all that can add up to a lot of weight to place on a gimbal head.
The New Katana Jr comes in at half the weight of it's big brother. However the load capacity is still weighing in at 50 pounds. Because I teach so many workshops in remote places in both Africa and Alaska,  bush planes are often used for transportation to our various camps and lodges. The over all weight of gear and clothing is always a consideration. This new Gimbal is the ticket to having great camera support at a lighter  weight and smaller size.
This new Gimbal is now available for purchase directly from ProMediaGear.  Mention Idube Photo Safaris, we love these guys.
708-263-4443 or
888-413-3332 (Toll Free)

E-mail:
sales@promediagear.com
ProMediaGear Gimbal Katana JR                 ProMediaGear Katana
The Katana Jr. Gimbal Head was created to provide the ultimate marriage between size, weight and functionality. The Junior is able to support a 600mm Lens, yet is portable enough to be backpacked through the jungle at just 2.4 lbs! The truss design manufactured out of rigid T6061 Aluminum required the PMG team of engineers to program the CNC machines to their limits to produce a product we know you will love. The Gimbal features an independent Pan and Tilt knob large enough to be handled with gloves as well as an Arca-Style cradle clamp that will nestle your camera plate or lens mount with precision and security. The fluid type movements will allow you to quickly control your camera and lens combo, as if it were an extension of your body. The bottom of the Katana Jr. is a standard 3/8-16 mount commonly found on most tripods. Treat yourself to one of the smoothest and lightest gimbals on the market today!
The Katana Junior is made of hard anodized, scratch-resistant 6061 aluminum alloy and CNC precision machined parts in the USA. Maintenance free, designed with weather-sealed ball bearings, enables the head's smooth movements. The Katana also features over-sized knobs for ease of operation.
Smooth panning and tight locking mechanism (separate from assembly mounts), adjust the friction without parts coming apart
Arca-Swiss type compatible lens mount
Hard anodized scratch resistant finish
Sealed Maintenance Free Ball Bearings
Over sized knobs
Lightweight aircraft quality aluminum
CNC Precision machined parts
5-year warranty
Made in USA
Length: 8.48 inches
Width: 3.10 inches (including knob)
Height: 9.75 inches
Weight: 2.40 pounds
Load Capacity: 50 lbs (22.68 KG)
Mount Thread: 3/8''-16
(1) GKJr. Katana Junior Gimbal Head with Arca Type Clamp
• 5 year warranty

• For Limited Time includes PX6 mounting/balancing plate $40 value.
https://youtu.be/Gjxae68EGn0