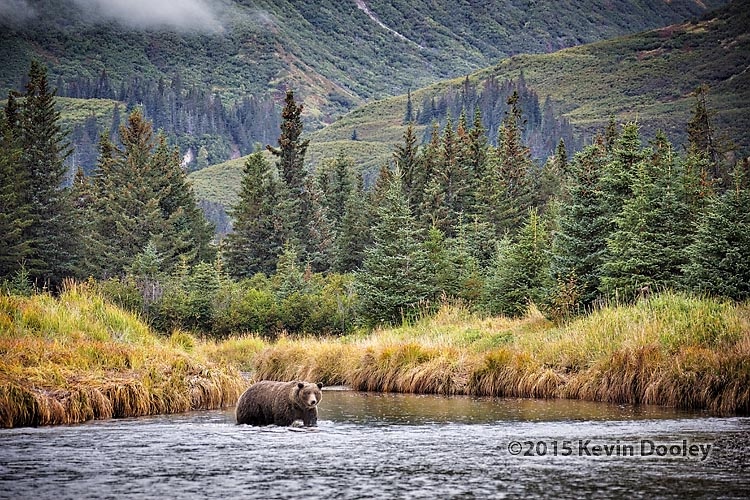 Alaska Brown Bear and Polar Bear Photography Workshop with Wildlife Photographer and Instructor Kevin Dooley. Already 30 percent booked. Call 505-401-2988 or 505-345-6322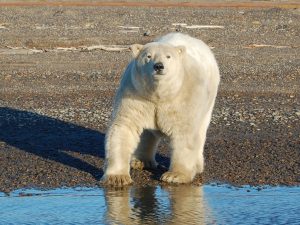 September 8th-13th 2017 Lake Clark .
September 14th Polar Bear Trip Kaktoviak Alaska
September 14th Night Time Aurora Discovery Joy Alaska
September 15th Fairbanks Alaska
Arrival in Anchorage and overnight Sept 7th
Welcome to Idube Photo Safaris Alaska Brown Bear Photography Trip and Workshop.
This is by far one of my favorite wildlife photography adventures. Alaska is a beautiful a very photogenic place, my heart races with excitement when I see these amazing Grizzly bears roaming through their natural habitat. To get so close and personal with these amazing animals and to have the oppertunity to photograph them in this wonderful environment is a true blessing.  On this Alaskan photography workshop we will cover all kinds of photographic topics, however we will concentrate on how to get the best images of these spectacular Alaskan Brown Bears.
No permits or viewing platforms are used in our area, photograph the bears in their natural environment. If on the very rare occasion we decide to fly out from the lodge to another location, some additional locations may have viewing platforms.
We will only have 6 spots available for this trip. The price does include the bush flight from Anchorage to the lodge and return. We are set to do this trip September 7th thru 13th 2016.
Hotel and food costs in Anchorage before and after the Workshop are not included and are at your expense.  Air fair to Anchorage is at additional cost. This trip will fill up fast.
Call us right away to be on our booking list. 505-345-6322  cell. 505-401-2988
All Meals and hotel except Lunch during Polar Bear photography trip are at your own expense during the Polar Bear portion of this trip.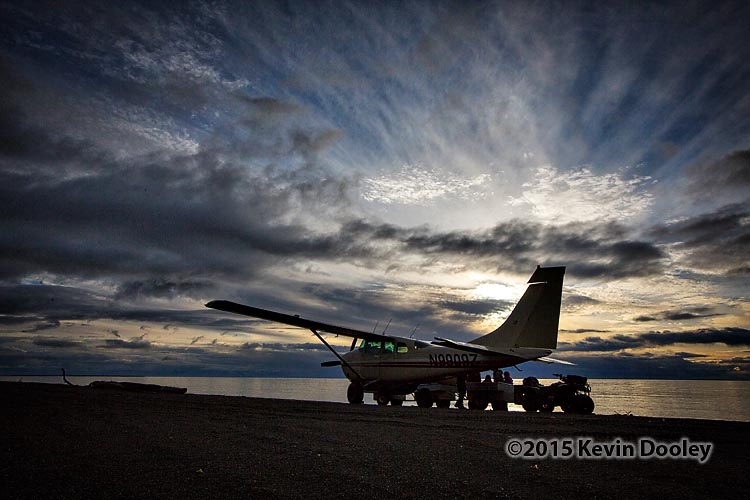 Itinerary Alaska Bear Photography workshop
Day one.
Arrive and overnight in Anchorage at the Marriott Courtyard. Shuttle service available from airport to Marriott. Shuttle number is 907-245-0322. Make sure to discuss this reservation with Kevin, we do get a special and very good rate at this hotel. Once we have established all the arrival times we will set a meeting time and location at the hotel.
Day Two.
830AM bush plane flight to our lodge. Flight will take approximitly 1 hour. Alaska weather is very unpredictable. We can encounter weather delays. Normally these delays only last a short period of time.
Day Two - Day Six
Enjoy our time at the lodge creating amazing photographs, eating great food, and having fun. Photography workshop time will vary and take place at different times and locations. Fishing and clamming can be added to your day. This adventure is more then just a photography workshop, it is a vacation . We will be photographing the bears at different times of the day depending on the tidal changes, we normally head out to photograph the bears for a few hours in the morning and in the mid to late afternoon. In September the sunrise is just after 7AM and sunset is approxitmtly 840PM. We normally eat Breakfast at 8, lunch at 1 and dinner at 7. This is a very special place, everything has to be flown in or brought in by boat, the lodge is very comfortable and does have electricity by solar panels  and generators. Very few people will ever get to spend time in such a remote and beautiful location, especially considering the quality of the lodge, food , and staff.
Day Seven
9:30 am one hour Flight back to Anchorage. I highly recommend staying over night in Anchorage on this day and scheduling your return flight the next day, after noon if possible. Weather delays are always possible and although very unlikely, if we do have to stay an additional night at the lodge it is at a cost of an extremely reduced rate of 125.00 per person. This includes room and board and normally guided activities. Please note that the hotel and meal costs for day one and day seven (Before and after the Bear safari begins) are at additional cost.
Day Eight
Transport to Fairbanks Alaska and over night in Fairbanks. Hotel and Meals in Fairbanks not included.
Day Nine
Early Morning Flight to the high Arctic and Polar bear Viewing. Lunch Included
Night Day Nine
Transport to Joy Alaska to Photograph the Aurora.
Day 10
Early Morning Transport back to Anchorage and overnight or late Flight back home.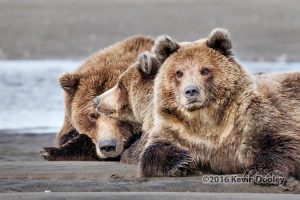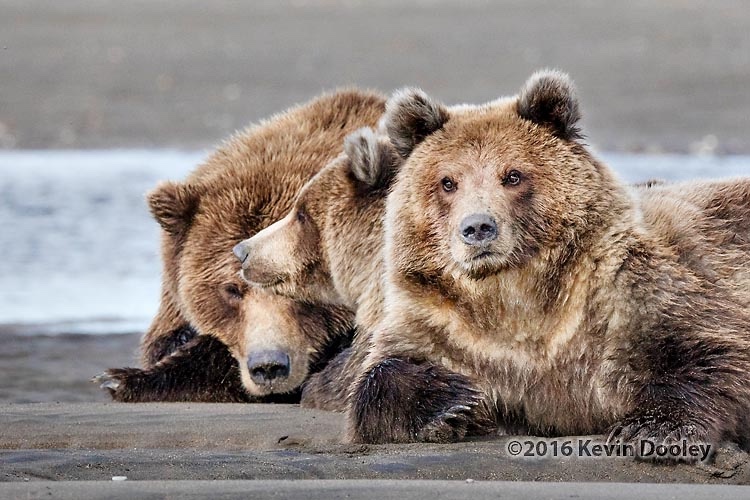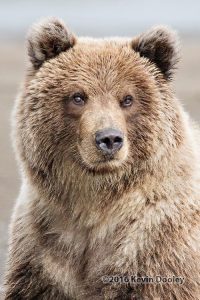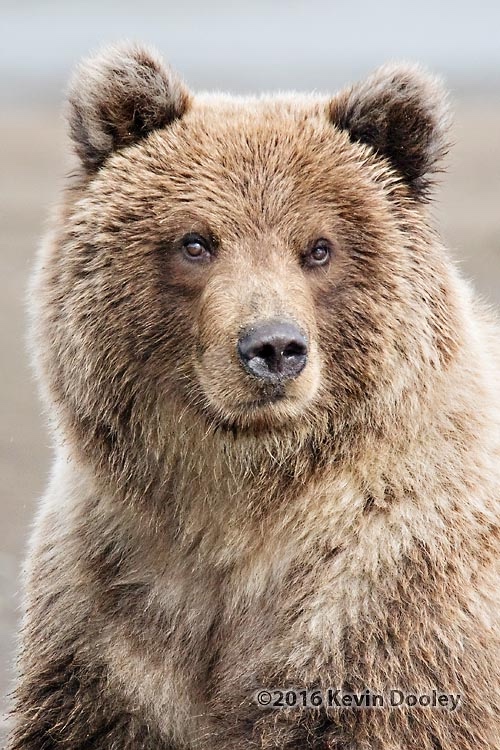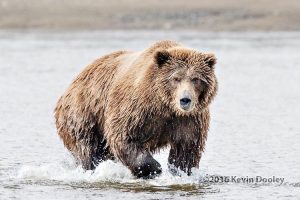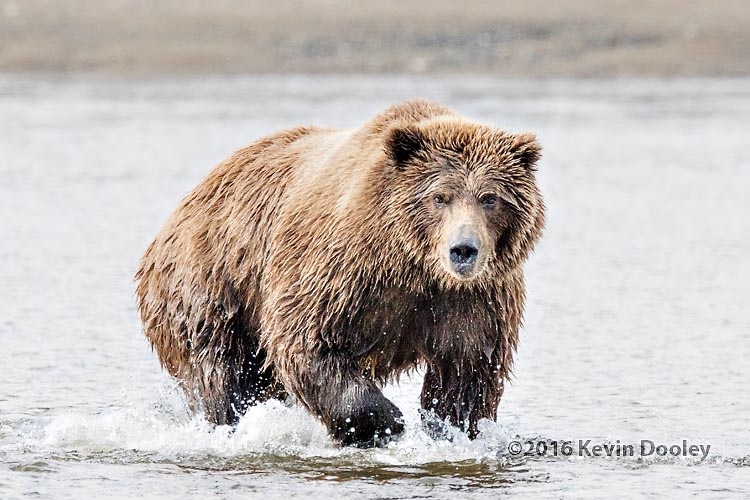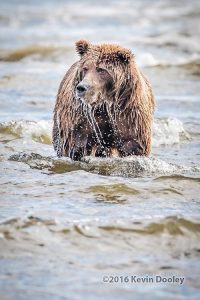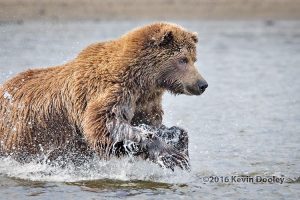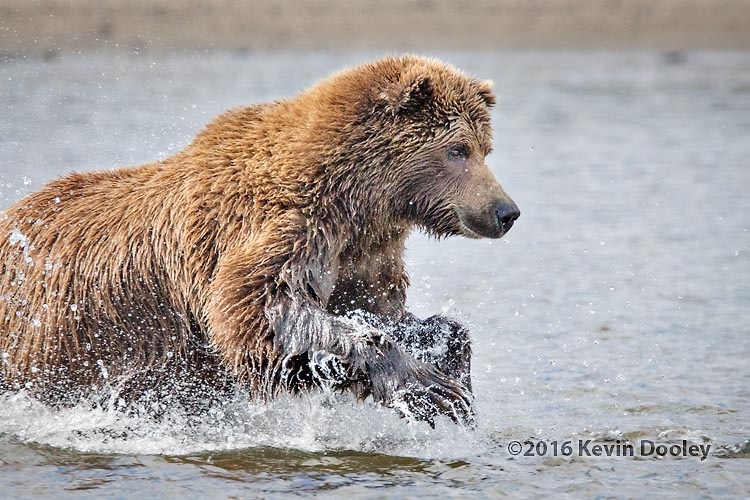 The Lodge Brown Bear Photography
The Lodge is a premier vacation destination for wildlife photography, world-class sport fishing and Alaska bear viewing. Under the same management since 1983, hosts David and Joanne Coray welcome all national and international guests. The lodge offers its patrons a sense of Alaska adventure with all of the upscale amenities as well. The lodge has developed into one of the premier sites in Alaska to view Brown Bears in their natural environment. Our knowledgeable guides assist our guests in getting properly positioned for excellent viewing, understand behavioral nuances and gain key information about bear biology.

Cuisine
Providing fresh local cuisine is as enjoyable for us as providing unforgettable outdoor adventures. Silver Salmon Creek lodge serves the freshest Alaskan seafood including salmon, and halibut as well as a variety of other meats. Our garden provides fresh salads and all of our entrees, soups, breads, desserts and bakery goods are prepared from scratch on site by our executive chef and baker. With advance notice we will accommodate special diets. The meals are served family style in our dining room overlooking a spectacular view of lower Cook Inlet. It is not uncommon to observe brown bears meandering outside while seated at your table. We may not be able to control the weather but we can control the dining experience.
Photography
For the past 12 years, safari tour leaders have chosen this lodge to bring their clients, resulting in world-class images of coastal brown bears, puffins, bald eagles and magnificent scenery.They have developed a safe and successful program of moving into the bears' habitat, altering as little as possible their natural free- ranging movements. No permits or viewing platforms are used. Guides are well trained in knowing the local area's opportunities and work hard to position their guests as closely and safely to the bears as circumstances allow as they forage for grass, clams, berries and salmon. Long hours in the field can be expected, with the extended summer daylight allowing for early morning and late evening excursions.
The  lounge area with built-in screen allows for professional power-point presentations, where we can show case our work and learn new and exciting ideas and techniques. With this teaching and learning environment, all levels, from beginner to pro shooter, can enjoy the relaxing atmosphere while capturing stellar images of wildlife and natural beauty.
Care is taken to protect all camera gear, since we are operating in a salt-water environment. The guides are well versed in helping protect camera equipment, especially along tidal flats and on boat excursions.
Lake Clark National Park is a relatively new park with untapped potential for all photographers. The idyllic saltwater bays and grassy meadows of its coastline harbor some of Alaska's most treasured wildlife and scenic opportunities.
Various camera lenses are available for rent at the lodge. Contact us for specific questions regarding lens rental so that we may Check with Silver Salmon Creek Lodge for availabilty.
Alaskan Landscape and Macro Photography
In addition to photographing the Coastal Brown Bear, we will have many oppertunities to photograph the amazing  and highly scenic area around the lodge. The fall colors in September are specitular giving that extra edge to landscapes and macro scenes. I normally take three lenses on this journey , telephoto, wide and macro. My telephotos is a 150-600, however we do normally get opportunities to get close to the bears. Envrionmental images of the bears can be as impressive as the close up views.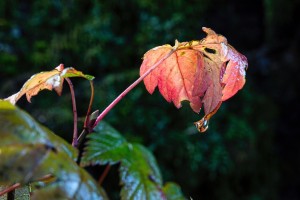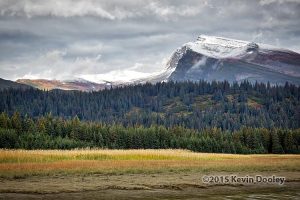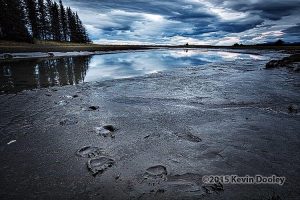 Bear Viewing and Photography
Lake Clark has evolved into one of Alaska's premier sites for viewing coastal brown bears in their natural habitat. Guests can enjoy witnessing these magnificent mammals as they forage in the local meadows for sedge grasses, dig for razor clams at low tide, or chase salmon returning to their native streams.
Lake Clark is home to a subset of local bears, most of which are mothers with cubs and juveniles, although we do see the larger males during breeding season and other times. It is not unusual for guests to watch bears from the deck of their cabins, as the free-ranging omnivores wander in and out of the premises. Silver Salmon Creek Lodge is different from most other bear viewing locations in that we move into the habitat of the bear, avoiding the necessity of viewing platforms and designated sites. As a result, we see behaviors not commonly seen, including nursing, courting and mating activities.
Knowledgeable guides are always present and vital to the experience of not only getting properly positioned for excellent viewing, but to understand behavioral nuances and gain key information about bear biology.
Fishing Add ON available for non photographers.
Fishing and Clamming Add ON available for Photographers and Spouses.
The Lodge was founded on the services of sport fishing in the early 1980's and we have honored that tradition by continuing to offer world-class fishing for salmon, dolly varden and halibut. Our 40 acre in-holding within coastal Lake Clark National Park offers the perfect setting for anglers wishing to experience the thrill of fly and spin fishing for three species of pacific salmon, with our 29 foot charter boat Stormy Skye offering access to the finest halibut grounds in Cook Inlet. Several tidally affected, clear streams make their short passage from their headwaters in the Chigmit Mountains, emptying into Cook Inlet, where the returning salmon and dolly varden re-discover the natal routes to their spawning grounds. Additional Charges for Fishing.
GENERAL
Q: What typical weather patterns and temperatures can we expect?
A: The weather is coastal which means rain can be likely so bring a raincoat, although we do experience periods of sunshine. Expect temperatures in the 50's and 60's (F), and sudden changes, including wind, are common. Bring layered clothing
.Q: Are there restrictions on the amount of baggage to bring? 
A: Because you will be transported by small plane, we ask that you limit your gear as close to 50# per person as possible. Sometimes exceptions are made for photo tour groups, and it is also possible to mail some gear to us ahead of time. The name and address to use are: Steve Toth, 1618 Tanaga Circle, Kenai, Alaska 99611 and best to ship it at least 6 weeks prior to your arrival, & make sure you write the party name on the outside of the box. phone number is (907) 252-3118,  There may be extra charges if excessive gear results in additional plane trips. Please limit your gear to clothing, a few personal items and photo equipment.
Q: How much walking will we be doing? 
A: We are equipped to transport people into the field who have difficulty walking long distances. This includes the use of ATV's with trailers that will transport you for bear viewing, photo excursions, and fishing. Walking can also at times be an option, if arranged ahead of time with your guide. There are areas where walking can be challenging, such as on the tidal flats and places around the creek which are muddy.
Q: Will we be transported by boat during our stay?
A: Same day and overnight guests generally will not be utilizing any boat services. Those staying longer than two nights will have the option of boat trips to bird sanctuaries, coastal explorations and fossil beds, and the boat is necessary for halibut fishing and access to the tent camp site. Our charter vessels are operated by coast guard licensed captains, and we have a 100% safety record in 29 years of operation. 
A: There are annoying insects throughout Alaska but they are easily managed by a combination of insect repellent, head-nets, or simply ignoring them. Mosquitoes are more common in early summer while no-see-ums and "white sox" (small gnats) more common later in the summer. We have a good supply of repellents but you are welcome to bring your own. Alaskan insects do not carry diseases but the bites can result in swelling and itching
.Q: What measures are taken to be sure we are safe from the bears?
 A: Our guides are trained to understand bear behavior and know the parameters surrounding safe bear viewing practices. Most of the bears we see are already somewhat acclimated to the presence of humans, and there has never been a serious negative encounter with bears in our 20 year history of providing bear viewing services. With that said, the bears at Silver Salmon are still free-ranging wild mammals and need to be approached with caution, and the guides will ensure your safety while assessing behavior and possible stress signs of the bears.
People react to the close presence of bears very individually, and if you are uncomfortable with the proximity between yourself and the bears, we will accommodate your concerns and make adjustments accordingly.
 Q: What if we have dietary restrictions? 
A: Our kitchen staff is very sensitive to any special dietary needs. By letting us know well ahead of time (and reminding us again by email 1-2 weeks before your arrival if possible), we are able to accommodate most requests.
A: Yes. For daily bear viewing/photography in the local area, most people get by fine with knee boots, which we have a large supply of. Some people, especially photographers, prefer hip or even chest waders. The nearby meadows and tidal flats can be marshy and wet. Boat activities require hip waders, and while we have some in stock, many guests prefer bringing their own. It is best to contact us a short time before arriving in order to know if a correct size is available for you. We are limited in knee and hip boots of size 13 or larger. Hip boots can be purchased at any sporting goods store in Anchorage, Soldotna or Homer
.Q: Are there incidental costs that we may incur? 
: There is a $6 a day per person park user fee (even if you hold a National Park pass) and a sales tax due with your balance. Other optional costs are vacuum sealing any fish you want to retain ($1 a lb), halibut charters at $100 a person (3 minimum), and international cell phone calls ($3 a minute). Gratuities are not included in the charges and are always greatly appreciated.
Q: Is there a chance our arrival or departure will be delayed by weather? 
A: Because we use chartered small aircraft for transporting you, there is always a chance that bad weather may pre-empt a flight, but it's unusual and delays are often only a portion of one day. For this reason in addition to the possibility of a domino affect on your travel plans after leaving SSCL, we strongly encourage trip insurance and have links on our reservation page. In the event weather forces an extra night at SSCL, we charge $125 per person for room and board, and often this will include guided local activities.
 Q: Do you have internet service at SSCL? 
A: Yes, we have a satellite dish and you are welcome to bring your own laptop computer. However, we only have limited band-width and it is imperative that you not send photos, stream videos, or access programs that will exceed our band-width allocation. When that happens, the system gets shut down for 2 days and everyone suffers. Emails without photos are fine
.Q: Do cell phones work at Silver Salmon? 
A: Yes, depending on your provider. At the current time we have good luck with Verizon, only fair with AT&T, and Sprint does not work
Q: May we bring our own alcohol beverages?
A: Absolutely. We do not have a full service bar at SSCL but you are welcome and encouraged to bring any alcoholic beverages you wish. In the case of large amounts of beer/wine, we may be able to purchase that for you ahead of time and store it at the lodge, if notified at least 1 month prior to your arrival.

.Q: Do you have laundry facilities at SSCL? 
A: Yes, we have a washer and dryer and you can arrange with our housekeeper to have your laundry done, on a gratuity basis.
A: Yes, but only when the generator is on. We operate alternately on a direct AC diesel generator current and a solar/battery system. Typically the generator is running between 6 and 10 AM and also between 5 and 11 PM. Hairdryers draw a lot of electricity so please use only during designated generator times or check with staff as to the status of our power grid
.Q: Is there a gift shop at the lodge? 
A: Yes, we have a small gift shop that includes hats, T-shirts, sweatshirts, thermal mugs, video CD's of Silver Salmon Creek, and children's books plus books of poetry by an Alaskan author.
Q: Will we be required to sign an Acknowledgement of Risk form? 
A: Although we've never had an incident where serious body harm has occurred, our insurance company requires us to have guests sign an Acknowledgement of Risk form,  it can be signed upon your arrival at the lodge. 
.Q: What type of physical disabilities or medical conditions might create difficulties for me?
A: You don't need to be in perfect shape, as the walking is generally over short distances. There are stairs leading to the dining area and we are set up for CPAP users. Joanne is a board certified emergency medicine physician and is happy to answer any medical questions prior to planning your trip.
 Q: Are there hiking opportunities? 
A: There is dense brush and undergrowth making long hiking treks difficult. We do have short hikes available around the premises and longer ones available along the beach and inland along riverbanks.
Polar Bear photography Add on. Sept 14th
Includes flights, lunch, boats for this extreme adventure. Additional costs: Hotel and Meals in Fairbanks and flights to and from Fairbanks to Anchorage. Depending on the group size we may drive to Fairbanks.
We will have to stay in Fairbanks for two nights.
Viewing polar bears in the wild is one of the most unique experiences in the world. Take a walk on the wild side and see polar bears in their natural habitat. Safely view and photograph polar bears, in a rare and special wildlife encounter. Visit the Inupiat Eskimo village of Kaktovik, which is located along the coast of the Arctic Ocean on Barter Island and is the only village within the Arctic National Wildlife Refuge.

Tour Summary:
Fly north over the expansive Yukon River Valley, home of traditional peoples that sustain their lifestyle and culture as they have for thousands of years.
Cross the Arctic Circle.
Experience the rugged and magnificent Brooks Mountain Range as the flight route travels through the Gates of the Arctic National Park.
Land at the Inupiat Eskimo village of Kaktovik and travel to Marsh Creek Inn for lunch and an orientation on the community and polar bear viewing experience.
Join a Coast guard licensed boat captain on a water viewing expedition of these giants of the north.
Late afternoon departure for Fairbanks.
SCHEDULE:
8:00 am Depart Fairbanks by air.
11:15 am Arrive Deadhorse.  Restroom break while pilot is refueling.
11:30 am - 9:45 am Depart Deadhorse.
12:00 pm Arrive Kaktovik.  Van transfer from plane to Marsh Creek Inn.
4:00 pm Depart Kaktovik for Fairbanks.
6:00 pm - 7:00 pm.  Arrive Fairbanks.
Departure time: 8:00 AM / Return time: approximately 6:00 - 7:00 PM
Minimum number 4 required.
---
 Rate: $1999 / person
---
TOUR INCLUDES:
Round-trip transportation from Fairbanks
Orientation and Safety Briefing
Buffet lunch at Marsh Creek Inn
Boat ride and viewing of polar bear (note, if weather cancels boat trip viewing will be done by land).
MINIMUM NUMBERS: This tour does require a minimum of 4 to go. If we do not have the minimum number 2 weeks out we will notify you of this situation. Guests will receive a full refund if we do not meet the minimum numbers.
Homestead Aurora
A Night of Guided Aurora Watching in Joy, Alaska
Tour Summary:
Meet your friendly, informative Alaskan guide who is certain to make your experience a memorable one.
Ground tour north on the historic Elliott Highway in the personalized comfort of our tour coaches and vans.
Cross over Wickersham Dome and enter a remote region where the stars blaze in a pristine winter sky.
Arrive in the community of Joy, Alaska and experience the warmth and homestead hospitality of the Arctic Circle Trading Post.
Watch the night skies for nature's greatest light show, the mysterious Aurora Borealis.
SCHEDULE
Upon our return from Polar viewing
Departs at 8:00 pm; returns between 3:30 and 4:30 am.
Stay over night in Fairbanks
Return home
[pricingtable title="Brown Bear Safari Workshop" price= $4895..00 pp Double Occupancy $4995.00 Single Occupancy" image="https://idubephotosafaris.com/wp-content/uploads/2015/01/00522-copy.jpg" submitcaption="Book Now" submiturl="https://idubephotosafaris.com/?page_id=9"][pricingcolumn]4895.00 Brown bears Only / With Polar Bear/Aurora Lights 6995.00 [/pricingcolumn][pricingcolumn]Arrive Anchorage Alaska September 7th[/pricingcolumn][pricingcolumn]Overnight Anchorage Sept 7th[/pricingcolumn][pricingcolumn]September 8th, 9 AM Plane to Lodge and Afternoon Photography[/pricingcolumn][pricingcolumn]September 8-13th Brown Bear Photography activities.[/pricingcolumn][pricingcolumn]September 13th fly out to Anchorage.[/pricingcolumn][pricingcolumn] Overnight in Anchorage or continue with Polar Bear adventure[/pricingcolumn][pricingcolumn]Sept 14th Polar Bear and Aorura adventure[/pricingcolumn][pricingcolumn]Workshop Fee and bush plane flights Included[/pricingcolumn][pricingcolumn]Overnight in Fairbanks[/pricingcolumn][pricingcolumn]$200.00 Single Supplement fee [/pricingcolumn][/pricingtable][pricingcolumn]
Photographs provided by Kevin Dooley and Northwest Tours
[gallery_bank type="images" format="thumbnail" title="false" desc="false" responsive="true" special_effect="overlay_fade-white" animation_effect="bounce" album_title="true" album_id="20"]
IDUBE Photo Safaris            2414 Juan Tabo Suite B    NE          Albuquerque NM 87112     505-345-6322       Cell 505-401-2988      Fax 505-345-1539
E MAIL CONTACT  idubephotosafaris@yahoo.com
South Africa Photo Safaris     Banjo Workshops   Wildlife photography    photography workshops  Honeymoons  African Safaris