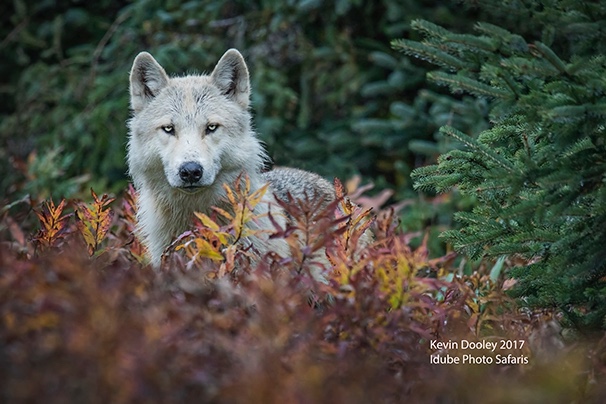 Wolf
I wrote this blog on one of our Alaska Bear Safari mornings. It was about 5:30 AM and I find that to be a great time for working on my writing. In September the sun is very slow to rise, so we normally do not get out and start photographing the bears till around 8am. Just no light.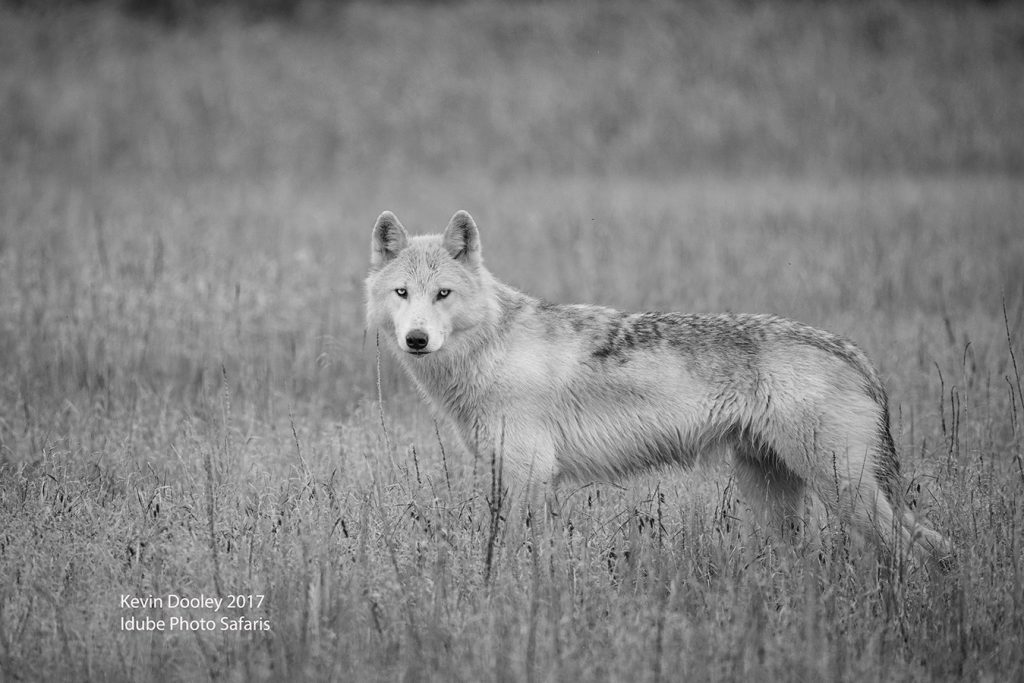 Yesterday was quite the day indeed.
This time of year in Alaska the mornings come late, the lingering darkness drives me sort of nuts. Being a morning person, I wake up with a lot of get up and get going.
However, between the constant thick swampy clouds, drizzle, and shorter days, the sun wants to hold off on rising till around 7 am. Sort of drives me nuts. I want to get this day rolling. On the other hand, in the evening when I am worn out and ready for bed the sunset also takes on a stubbornness of its own. Way past nine pm and it's still light outside. Yikes, what a state of confusion.  Not to mention that the days are growing shorter in leaps and bounds. Hard to imagine that just two months ago, darkness around here was just about non existent. A photographer could be out photographing bears with good lighting at 11 pm at night. In June, sleep is by closing the dark blinds and convincing yourself that it's nighttime. September, This time year, sleep is great, but the sun just takes forever to light up the day. So I set here drinking coffee, and writing emails that I hope will have enough memories and interest to eventually end up in some sort of edited version in a book.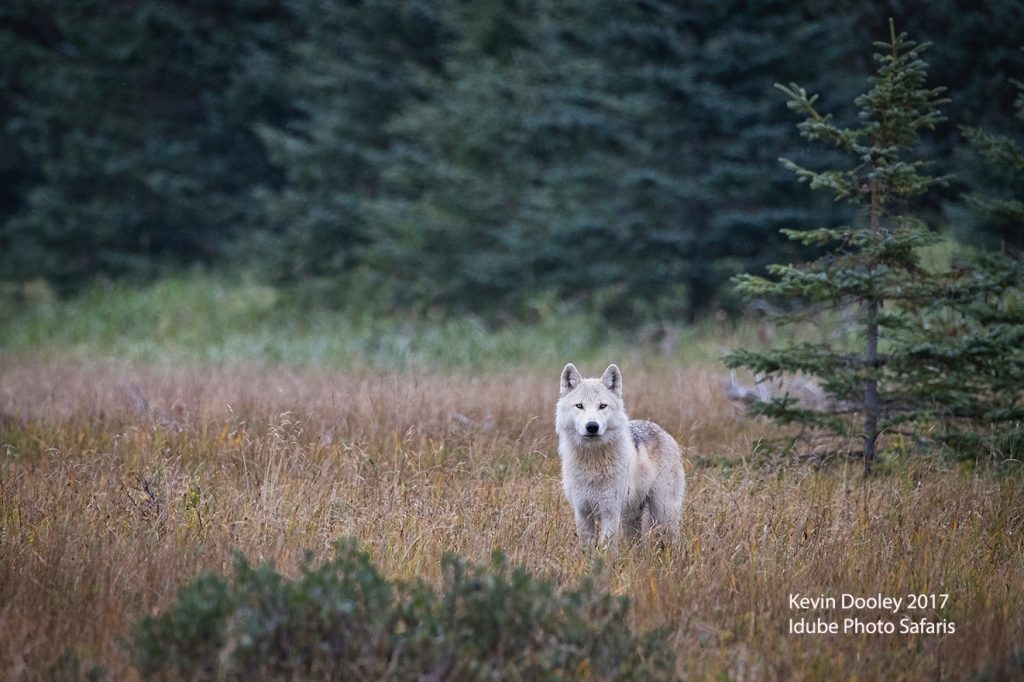 Yesterday morning was a typical Alaskan fall morning with a sky filled with drizzle, bullet proof clouds and poor lighting. The breakfast bell rings at 8am, just about a half hour after the air with in a mile radius of the camp fills with the smells of bacon and eggs.
Wow, 8am and still a bit dark out. At 530 AM, I sit in the lounge with hot coffee and the thoughts of what this day will bring. Still enjoying the quit time, before the group of photographers from Great Britain start moving about and calling their families back home. With one area were you might find a cell phone signal, it can be a bit of a hustle for these guys to get just the spot and phone home. A great group of folks, however their accents are just different enough to pull my attention away from what I'm doing and distract me to lose my attention to writing.
It's very difficult to photograph fishing bears in poor light, with shutter speeds over a thousandth of a second needed to stop the motion of running bears, a high ISO is mandatory. It's a game of camera adjustments and compensations. Another words when the clouds have settled in and the drizzle is present, the challenges of creating great images are ever present . Not to mention the set up to keep both yourself and your gear dry.
I have been photographing these bears for a few years now, it's becoming more and more difficult to get images that are unique and exciting for me personally. I suppose that's a good thing, as I have to think and create in a slightly different way than in the past. Yes some of that is all about camera angles, lighting, and composition. However it's also and maybe more so, about a new encounter, a new location, a better sunrise , and a new subject. Just a few of the reasons why every new day of nature photography can be completely different and a whole new experience. Yes I love it, the constant challenge and hope for that once in a lifetime image. That image that will knock the socks off even the most experienced of wildlife photographers.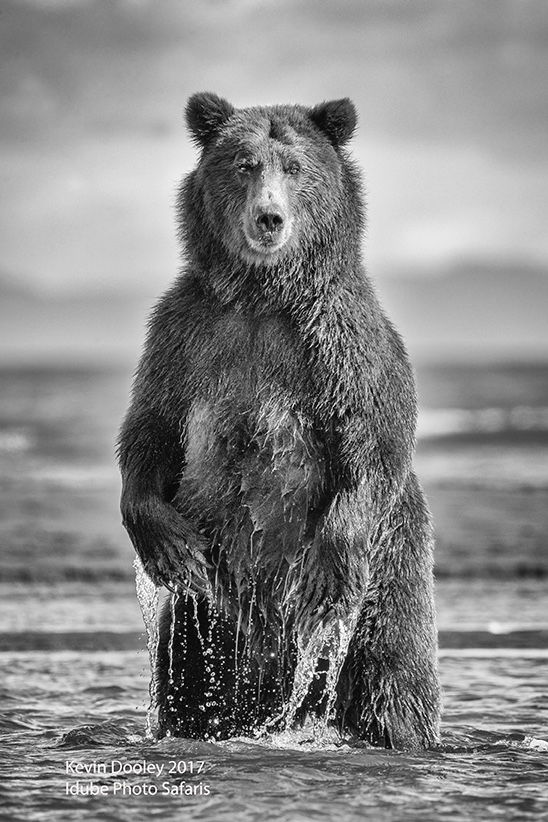 Maybe, just maybe I had one of those encounters yesterday.
We were busy traveling around the bogs that settle into the grassy fields during high tide. At 30.3 feet Alaska has the 4th largest tidal surges in the world. At times we can travel a half mile out into sandy areas of what was ocean water just several hours prior. The bears fish here, the fresh water streams dump out into the ocean, providing access to the spawning Salmon. The salmon take their first breath in these rivers as hatchlings and their last breath in these rivers as they create new life.  The remainder of the time these strong and determined fish are salt water bound.
When the tides are at their highest levels, we only have a few access points where we can cross from the sandy ocean shores of the Cook Inlet to the lodge. The grasslands and Beach pea pockets fill with tidal water and become inaccessible other then by boat. The access point north of the lodge is a few miles down the beach. A narrow path that winds through the thick pine forest, elevated above the tidal line. A stunning area filled with beautiful fall colors of yellows, reds, and oranges, from the scrubs, wild Bear Berries, and wild blueberries. We often use this old logging road, winding our way along the trail that rests on the edge of the pine forest. Making our way back to the lodge.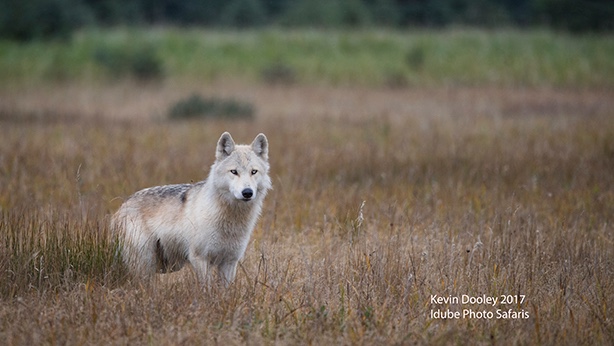 Today we would have a special treat. A once in a lifetime wildlife event. The opportunity to photograph one of natures most elusive, cunning, and intelligent predators. The Alaskan Timber Wolf.
As we traversed the narrow trail, we were busy chatting about the mornings great opportunities for amazing bear images. My wife Tricia was facing towards the north and in a quick glimpse she spotted a mostly pure white Arctic wolf. Approximately twenty feet off the trail, standing proudly and with great curiosity, in a thicket of fall colors. My heart burst with excitement. We brought the four wheeler to a halt and backed up the few feet we had gone past the wolf.  Stopping and having under 15 seconds to get a few images, I managed to compose and take approximately 11 images before the wolf fled into the thick forest. I always try to keep the exposure settings on my camera current. You never know when wildlife might pop into view.  By keeping your camera up to date with the passing lighting conditions, it gives you a much better chance to create an image on the fly. As my excitement built up , I knew I would need to check my LCD, as it all happened so fast. I knew this could be a great image. The What if's started running through my mind. What if I lost my focus, was not steady enough with the camera in its hand held position. What if the exposure was off. After all I had set my exposure last in a fairly open area and this wolf was hidden in the dark bushes. I tell myself, Please may this all have worked out. Oh no, the first image is ever so slightly soft, however as I quickly move on to the next image, I see success. I was using my Canon 1dxmk II, a sigma 150-600 S lens and the cfast cf card. I am able to capture an amazing 12 frames a second.
I only managed to get 11 images off before the wolf began his retreat into hiding. The last few images were of her departure. Only 8 usable images, I say to myself, wow that was amazing and quick. No one else managed to get any images of this magical moment, I feel very blessed to have pulled off the number of Images I managed to compose. . Everything happens very fast and a wild wolf normally will not give you any time in front of the camera. However It just so happened that it all worked out,
We quickly made a plan to try and get more images of this amazing critter.  We set up in an area adjacent to the thick forested area where the wolves hunt Voles. A mouse like rodent that were particularly abundant this year.
Sure enough the wolf eventually reappeared in the open meadow. No fall colors but still an amazing opportunity to photograph such an elusive creature. We all managed to get some great images and enjoy watching the wolf catch and eat several voles.
What a day.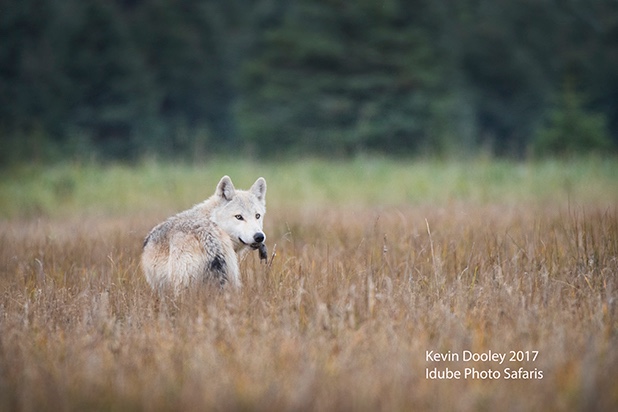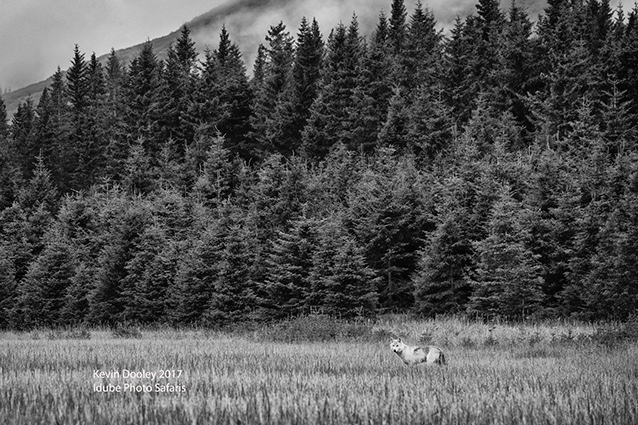 Join us in 2018 on our Alaska Bear Safari.
SaveSave
SaveSave