Last Minute Leopard
The last morning of an eight day safari in Madekwi Game Reserve. I have 9 guests with 4 of the big five under their belts. Of course the Leopard is giving us fits. We need a last minute leopard.
It's 4:59 AM, I have been awake for maybe 10 minutes. For some reason the bush is more noisy than normal. Seems that every bird, insect, and zebra in the area are all talking at the same time. Maybe because this is the first morning of the last 7 days where the wind is totally calm. I am excited, yet nervous. I realize a last minute leopard is an almost impossible goal to accomplish. My mind wanders of past safaris, how many times have we gotten down to the wire with no Leopard sightings. How many times have we rushed to a leopard sighting, knowing we have to be back to camp in record time, knowing that A small tour bus, packing, and a quick breakfast await us.
I  best get up and get rolling, the beds at Thakadu lodge are some of the most comfortable of all the lodges I work out of. That in itself makes the wake up call a bit tougher, especially on Morning eight. Each chalet has its own phone that is connected to the main lodge and the other rooms. However as per the norm, the phones are not all working. It's the night guard Sepoh who has been knocking on my door every morning at 5am. "Wake up, Wake up, Mr Kevin. Ok I say, I am awake.
The in room Espresso maker is a good start to this day. I use to bring my own espresso packets, however now with the new espresso machines, I can enjoy fresh made coffee. I enjoy some quite time and a chance to wake up and experience the sounds of the African morning, before heading out on safari. Coffee, a little quit time, and some planning of todays safari activities keep my mind busy. Tricia has decided to stay back this morning, packing and making sure everything is organized for our departure are her priorities, my priorities, finding a last minute leopard. I best get out of bed and try to find my way around with the slight bit of morning light. I'll not turn on the room lights so that Tricia can sleep in. I hate putting on my clothes in the dark. I have learned that it's always a good idea to give your cloths a once over before putting them on. You never know what may have decided to spend the night in your socks.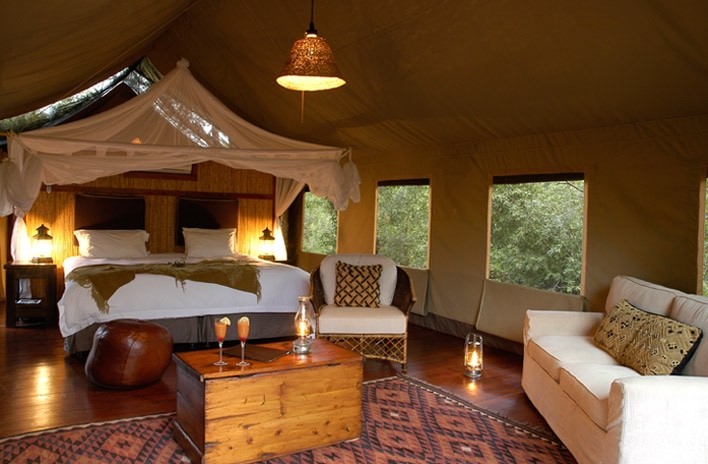 Seven days on safari can really wear me out. I am a 8 to 9 hour a night sleeper, maybe because I use so much energy over the day. Seven nights of only 6 or 7 hours of sleep can deplete my sleep bank very fast. The constant searching for wildlife, tracking, listing to the clues of nature, are all in a days work. Making sure everyone has water, snacks and plenty of good entertainment. The life of a safari guide.
The smell of the coffee and the morning sounds of nature are sure to get me rolling. The distant sound of the guides packing the  safari vehicles is building my excitement. This being the last morning of our seven night, eight day safari, half of my group has chosen to stay back. This often happens as folks need to get packed and get ready for the trip back to Johannesburg and the airport.
I have five guests ready to give it one more  shot at finding the last of the big five, the last minute leopard. We have had amazing wildlife sightings throughout the week, a leopard would be the icing on the cake. We load up, everyone taking the seat that has become so familiar to them over the last week of being on an African photo safari. I make sure the radio is on scan, listening in for any calls of a leopard sighting. We are off and running.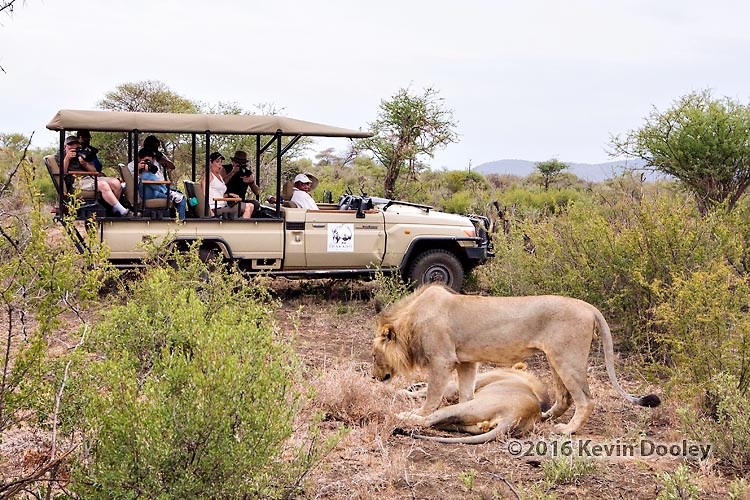 Almost immediately we get word on the radio of a huge herd of elephants that is heading for water. The herd is approximately fifteen to twenty minutes from our present location, however it is North of our location and my plan was to head south. The southern area seems to produce more leopards, and thats what is on my mind. I make a quick decision to go for the elephants as a bird in the hand is better than two in the bush. The radio is quiet and we arrive just in time to see a beautiful herd of elephants going about elephant business.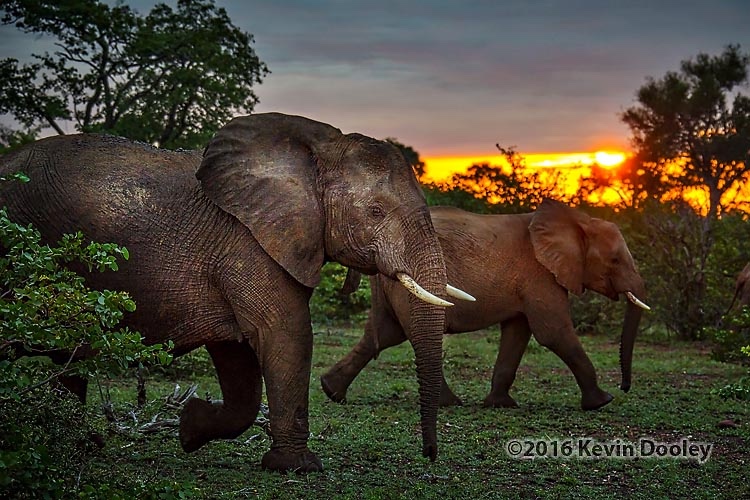 Just as we settle in to photograph the elephants, I here that word "nkwe" the local word for leopard. My heart skips a beat. Patience, the other guide, and I get a location and look at each other. At least an hour away, maybe more. Do we have time? let's Roll. As of now the Leopard is in a tree and is non mobile, thats a good thing, however she is not on a kill. Not being on a kill could lead to the leopard moving at any time. As we travel we stay updated and much to our disappointment , the leopard has moved, and has not been relocated. Leopards are very hard to locate, they are shy, mostly nocturnal, and can hide very well. We decide to keep rolling in the direction of the leopards last sighting, other guides are still trying to relocate the leopard and at this point thats our best bet.
We decide to stop at the runway on the southwest side of the reserve for a bathroom break. One of the few places in the reserve where we can find indoor plumbing. Just as everyone is out of the jeep and heading for the bathrooms I get the call on the radio. The Leopard has been relocated and is back in another tree, I am full of joy. I gather up the troops and off we go, it's looking like a last minute Leopard is going to happen.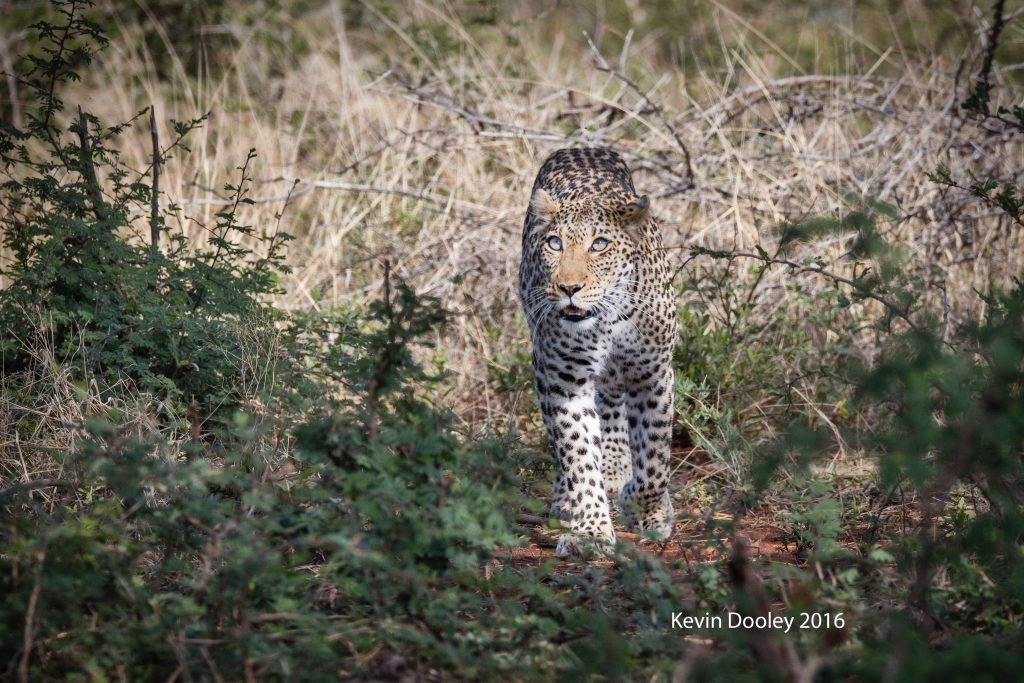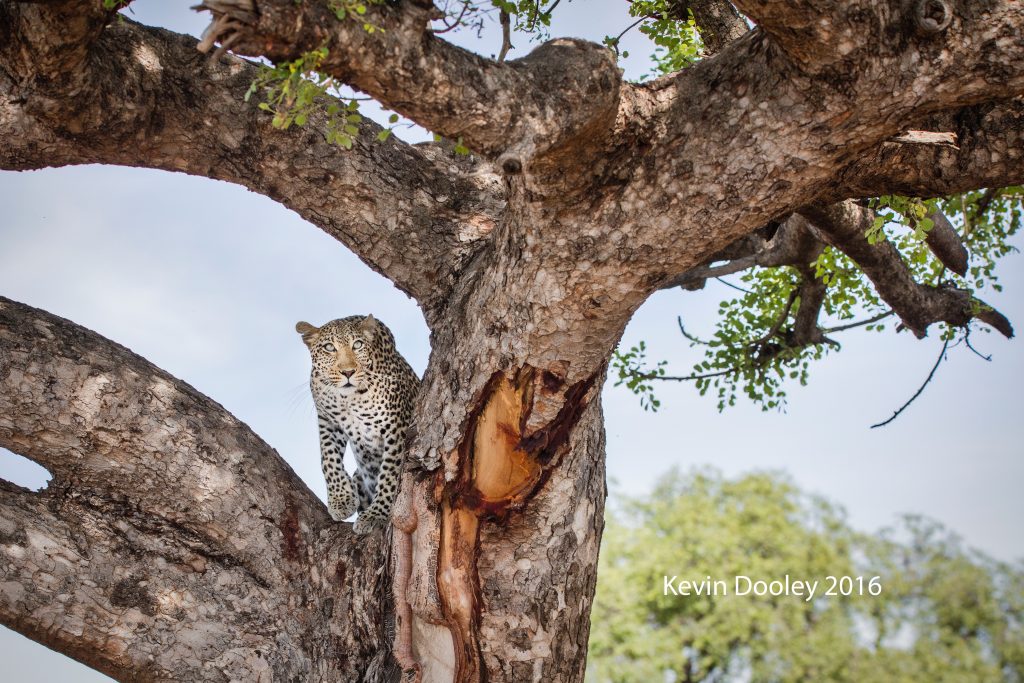 What a great last minute Leopard sighting we had. Granted we had to cut our time to a short visit, but a wonderful visit it was. The leopard came out of tree, we fallowed her and photographed her till she found another tree and up she went. We got back to the lodge in time for everyone to finish packing and have a great breakfast. I love Africa.