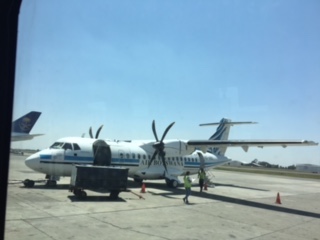 Okavango Delta Safari Air Botswana 
This is such a cool plane. Of course being the largest of today's planes that we will take to the Delta. 
I have thrived on adventure my entire life. 
AFRICA is a great place for a shot in the arm of pure adventure. I remember my first trip to Africa. Kenya Nairobi, a bustling harbor full of bright clothing and busy people.  On board a U S navy Aircraft Carrier. My blood still runs with the same excitement, although now I wear a safari and wildlife guides uniform.
As an aviation yellow shirt I had first dibs on the best places to see the sites from both the flight deck and the hanger deck. 
After endless days at sea with nothing but extremely long hours of flight oops, tiredness, and rolling ocean. Land was such a welcome site. 
Sailing into a new country for the first time, at 18 years of age, can be just about the most exciting experience that anyone could imagine. Especially with the pride, responsibility, and honor of wearing the US Navy Cracker Jack uniform . A uniform that I admired and wanted to wear ever since I could remember. 
Of course there was always the chance of pulling Mooring line duty and not having to get into your dress uniform. Without question, standing in my dress blues Next to all the other sailors as we circled the entire flight deck was my choice over mooring line duty. To witness people watching, admiring in amazement, the shear size and majestic beauty of a US Ship topped with sharp dressed sailors .This experience alone was such a joy and piece of pride in my life. 
Now we fly to the Okavango Delta, a paradise in the world of Safari guides. A place of beauty that pops out of the Kalahari desert like a full moon in the wilderness. Attracting wildlife from Miles and miles around. A place where wildlife can find food and water, a place to find shade and rest from the relentless heat and blowing dust of the surrounding desert.  
Yes I love adventures, and today I am in the middle of another one.  Idube photo safaris has been such a great part of my life. May I have many many more years of creating adventures