Tigers of India
and
Cultural
photo Safari
Your Adventure Awaits

Program Highlights –
Game drives with expert Naturalists at Kanha National Park - in search of the Royal Bengal tigers, leopards and other wildlife.

Explore the old quarters of Delhi in a cycle rickshaw ride including a visit to Asia's largest spice market.

Visit the Golden Temple in Amritsar.

Admire the beauty of Taj Mahal, one of the Seven Wonders of the World.
Join us on this life changing trip. I can not express the excitement of seeing a tiger in the wild. We will be staying in some of the best safari lodges and Hotels in India, visiting the  top tiger nature reserves in the world. Many other species are also encountered. Join us on this exciting and life changing experience.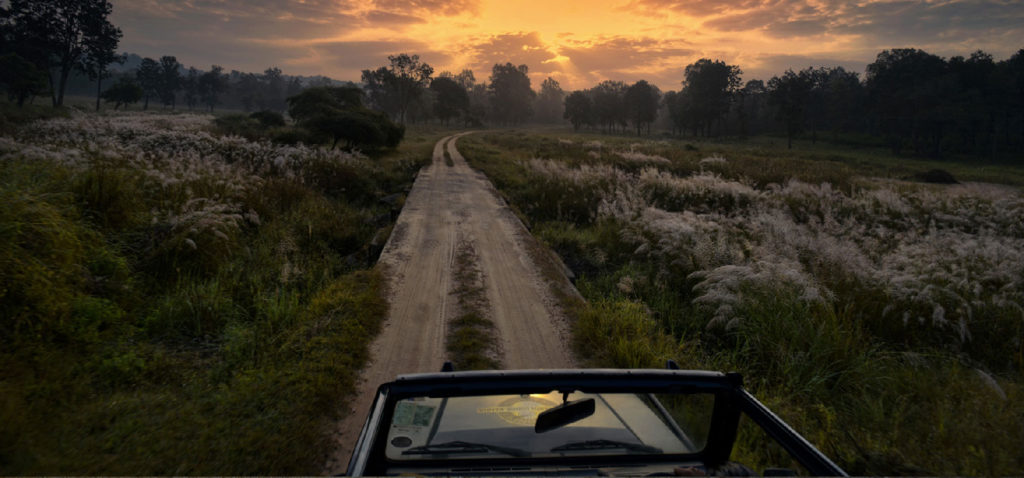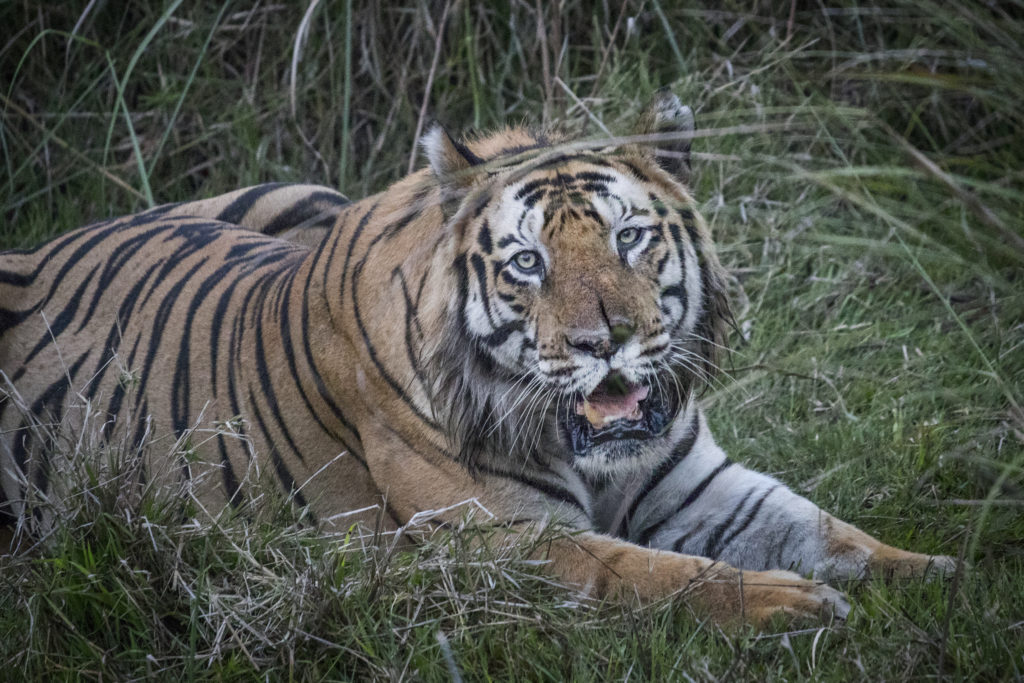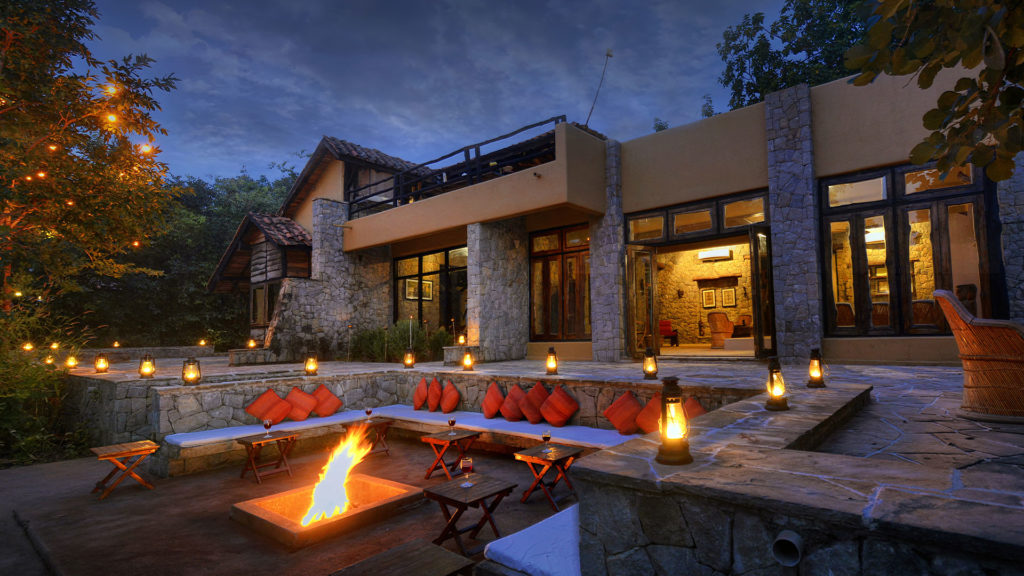 The Earth Lodge lies in 16 acres of natural forest, tucked away in a small tribal hamlet bordering Kanha's buffer zone. It offers 12 open-fronted, luxury bungalows with en suite bathrooms and large verandahs that adhere to high standards of green architecture through their use of recycled, waste wood and local stone in all aspects of construction and furniture design. The Lodge has won several Indian and International Awards for its high environmental standards.
Facilities at a Glance
All cottages are inspired by traditional Gond architecture and use locally available materials such as mud plaster, stone, terracotta tiles, rough-hewn timber beams and furniture made from waste and recycled wood, which helps them to blend in seamlessly with their surroundings.
24 hours front desk.
Complimentary daily house keeping service.
All bedrooms are air-conditioned and have dressing rooms, writing table and chair and large verandahs with forest views.
All rooms have 24-hour power back.
The main building is rustic, yet refined, built mainly with local stone, logs, baked tiles, and furnished with local tribal artifacts and crisp cotton upholstery.
The lodge has a dining hall, nature library-cum-presentation room and an eco shop that contributes 25 percent of its proceeds towards conservation activities.
The infinity pool is set between mahua trees and its infinity edges merge into Kanha's forests.
An experienced team of naturalists, who focus on birding tours and providing a holistic wildlife experience.
A multi-cuisine dining hall serving Indian and Continental cuisine cooked with locally sourced, fresh produce from neighbouring villages.
Outdoor barbeque and bush dinner areas.
Visits to weekly village markets for fresh produce; guests are welcome to visit our kitchen gardens and weekly markets during conducted village walks.
We are happy to consider special dietary requirements with prior information.
Overnight Mumbai

Taj Santacruz Mumbai
Internal Flight to Tiger Reserve


Mumbai to Nagpur flight, drive to Kanha
National Park


AM: Transfer to Mumbai airport in time to connect schedule flight to Nagpur – 8:30 / 10:00. On arrival an Idube Phot Safari representative will meet you at the airport, we drive to Kanha – approx. 5 hours.

On arrival check-in at your hotel – Kanha Earth Lodge

PM: Time permitting enjoy game drive in Kanha National Park your Naturalist in shared jeeps to see the elusive Royal Bengal Tiger and other wildlife.
All meals at the hotel.
May 8th – 13th
        AM & PM: Game drive in Kanha National Park to view tigers and other wildlife – by shared jeep. May 13th AM only
May 12th 2021
Kanha to Nagpur drive, flight to Delhi
AM: Game drive in Kanha National Park to view tigers and other wildlife – by shared jeep.
PM: Post lunch drive to Nagpur airport in time to connect schedule flight to Delhi – 19:50 / 21:35. On arrival an Idube Photo Safari representative will meet you at the airport and escort you to Taj Palace.
May 13th  2021
Delhi
AM: Tour of Old Delhi – Visit Jama Mosque, one of the largest mosques in the world and is constructed in red sandstone and white marble. Enjoy a cycle rickshaw ride through the narrow lanes of Chandni Chowk, the spine of Old Delhi. Drive past Red fort, built in red sand stone in 1648.
Lunch at a local restaurant.
PM: Tour of New Delhi – drive past India Gate, this 42m high stone arch of triumph bears the names of 85,000 Indian Army soldiers who died in the campaigns of WW I the North West frontier operations of the same time and the 1919 Afghan fiasco. Conclude tour at Humayun's Tomb, the first great example of Mughal architecture in India, it developed to become the hallmark of the Mughal Dynasty.
Dinner at the hotel.
Delhi to Amritsar
AM: Transfer to Delhi airport in time to connect schedule flight to Amritsar – 05:15 / 06:25. On arrival an Idube Photo Safari representative will meet you at the airport later we visit visit theGolden Temple – the sacred shrine of the Sikhs, which attracts people of all faiths from around the world. The temple, which is done up in gold and marble, is truly a sight to behold. It houses a huge copy of the sacred text – the Guru Granth Sahib that Sikhs consider their Guru. It also has a huge kitchen, which runs around the clock and feeds about ten thousand pilgrims every day.
After visiting temple check-in at Ranjit Vilas.
PM: Visit Jallianwala Bagh, where you can pay your respects to the martyrs of the Indian freedom struggle. During the British rule in India, General Dyer opened fire on innocent people at this very place in April 1913, causing a massacre and huge national outcry.
Return to hotel and proceed for a short village tour (a very special and unique experience). Dinner will be arranged at the hotel.
Optional – re-visit the Golden temple to witness the "palki ceremony" and night viewing of the temple which is beautiful.
Saturday
Description
Amritsar to Delhi by flight, drive to Agra
AM: Transfer to Amritsar airport in time to connect schedule flight to Delhi – 06:55 / 08:05. On arrival an Idube Photo Safari representative will meet you at the airport, drive to Agra – approx. 4 hours.
On arrival check-in at ITC Mughal.
PM: Visit Red Fort, one of the most important strongholds of the Mughals. Continue to Taj Mahal by sunset, one of the new Seven Wonders of the World.
Agra to Delhi
AM: Visit Taj Mahal at sunrise, return to hotel for
breakfast.
Post breakfast drive to Delhi. On arrival in Delhi rooms would be booked for Wash & Change until your departure homebound flight.
Tiger Reserve is spread over an area of 1,949 sq km (940 sq km of core area and 1,009 sq km of buffer zone), making it one of the best habitats for tigers in India (the current dominant male, Munna, is easily recognized by a symbol on his forehead that reads – "CAT"). The park is situated in the Central Indian Highlands, which are part of the extensive tableland that forms India's main peninsula. The highlands once were continuous forests and accounted for a significant part of the country's wilderness areas and wildlife habitats. Today, these forests have become fragmented and survive in parks such as Panna, Bandhavgarh, Kanha, Pench and Sanjay. 
International Flight to and from India Not included