Steve Kaufman's Jamming in south Africa Photo safari
Join Idube Photo safaris on the Steve Kaufman Jam Safari of a lifetime, not just a jam session, this is a full African Safari. We stay in some of Southern Africa's best luxury safari lodges with comfort, Game viewing experiences, and cuisine in mind. Our Jam Session normally take place during the midday hours after your made to order breakfast and before a yummy Lunch. The daily workshops last approximately an hour, plus the teaching and experience while on the Game Drives.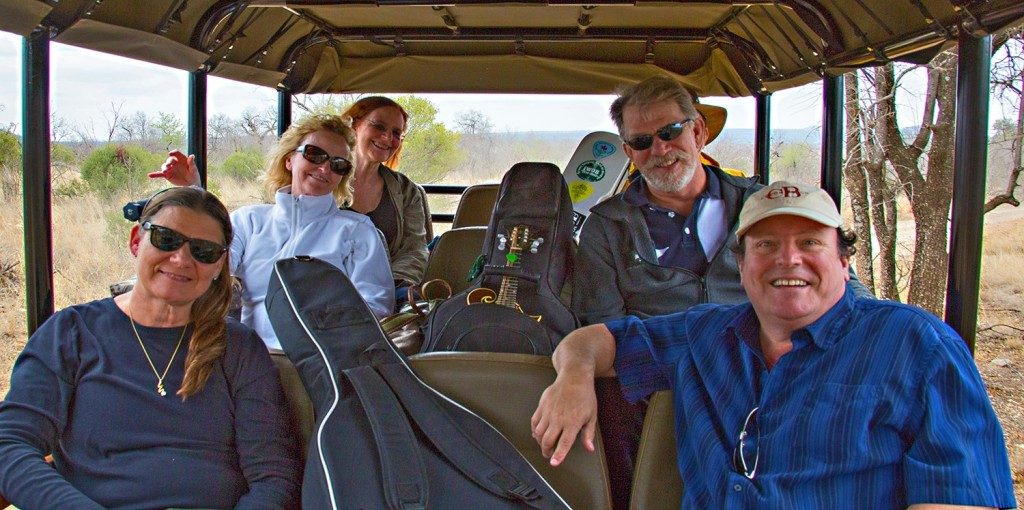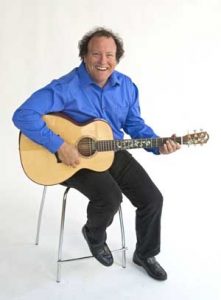 Join us for an unforgettable once-in-a-lifetime experience traveling to Africa for an African Photo Safari. I can't tell you how excited Donna and I are to be teaming up with our Safari hosts Kevin and Tricia Dooley on an adventure that none of us will forget for the rest of our lives. In my many years of teaching and traveling the world to hold group guitar workshops there has never been a destination as special as visiting Africa.  We'll spend our mornings and late afternoons exploring the wildlife of South Africa, and the midday will be filled with Jamming and Learning New Tunes that will be fun and rewarding. Our evenings and nights will be spent in a beautiful safari lodge, including exceptional African cuisine. The workshop will be a small group with lots of tunes and songs and some individual attention.
Arrive Johannesburg
overnight at the Mondoir Hotel
(not included)
Shopping & In Route to Lodge
Over night Safari Camp
November 14 th – 21st 2023
November 21st  2021 arrive at aprox 6pm. Overnight Johannesburg
Your First Night in South Africa



After your arrival at the OR Tambo airport in Johannesburg, South Africa, you will be transferred to the Mondior Hotel. If you arrive on the official arrival day we will meet you at the airport and help with your easy transfer to the hotel. If you arrive a day or more before the official arrival day, you will take the hotel shuttle over to the hotel. Safaris do not normally include food and lodging for pre and post safari days. Please check with us for your arrangements as well as assistance in securing these rooms. We normally will meet in the hotel foyer at 6:30 PM on the pre safari night as a group for an introduction and dinner.
On our designated day our safari will begin. We will depart from the Mondior at 830 AM. We will begin our day with an incredible shopping experience and cultural center visit. We will be staying over night at the cultural center. 
Cambanos and Son Agencies is a family business started by Jean and Dennis Cambanos in 1982, it was a small curio wholesaler working out of an office in Johannesburg town centre. They offered customers something extra, personal service and the pledge that they would always make sure the customer was happy.
The business is now one of the biggest in South Africa, supplying the world with African curios. But the pledge remains the same "Make sure the customer is happy" and hope they eventually become friends. The business is still run by the family today; Gerry Cambanos is only a phone call away if you require a piece of Africa in your home
Join Safari experts Kevin and Tricia Dooley on an experience of a lifetime in the exotic African Bush! Kevin is a well known Wildlife Photographer, his images have won numerous awards by National Geographic, Africa Geographic, Photographic World Cup to mention but a few. Tricia is South African and loves sharing her passion for wildlife and her homeland. Spend your mornings and afternoons discovering the many species of wild Africa. Imagine seeing and photographing Lions, Elephants, Giraffes, Zebras, and many other species in their wild habitat. Witness and learn about their behavior and the beautiful serene Savannahs they call home. Our Safari Game drives are packed full of adventure, knowledge, and excitement! Evenings are spent resting in our comfortable camp where nights are filled with warm candle lit dinners and camp fires. The soft sounds of wild Africa will sing you to sleep whilst your mornings will be greeted with birds waking up a new day in this paradise. Watch the Giraffe as they walk into the sunset, the Elephant mother helping her newborn baby learn to drink water. See herds of African Antelope grazing on the plains lined with beautiful umbrella Acacia thorn trees. This is Africa! This is a true Safari adventure that transports you into this magical and life changing place. You will never see life as you once did. Africa teaches you to see beauty in the wild, find the universe in the Southern night star filled sky, and fall in love with life all over again. Come…..Africa is calling you!
The accommodation at Thakadu offers twelve suites, reflecting a strong Afro-Asian safari ambiance, each boasting a viewing deck overlooking the Marico River.
Within the canvas frame of the tented Madikwe accommodation, the interior is uniquely designed to incorporate a full bathroom. Each tent has a sliding door that opens onto a private deck overlooking the river. Every aspect of our guests' stay and the surrounding camp has been carefully crafted to appeal to all our guests. Whether you are with friends, family or enjoying a romantic getaway, Thakadu River Camp offers an opportunity to connect with nature and discover the magic of an African sunset and the animals that inhabit this special area.