All Wildlife Images made on a Canon R3 with a Sigma 60-600 Lens
The sunrise over the Cuiaba river was the perfect accompaniment to a hot cup of rich Brazilian coffee. I glanced to the southwest and felt a twinge of excitement running through my body. Another beautiful day in the wild Pantanal is about to begin. My safari group has had a wonderful start to our jaguar safari. With two days of some of the very best jaguar sightings I have experienced, we have already photographed several beautiful jaguars . Today we will travel several miles up the Cuiaba river and connect to one of my favorite areas of the wild Pantanal.  The narrow and winding upper Caxiri Channel. An area that is normally full of wildlife. The large caiman hug the shorelines in search of fish and the many birds offer such wonderful photographic opportunities. The capybaras sit upon the river banks and occasionally swim and feed along the waters edge. All this activity keeps our cameras busy, however, it also provides both food and the perfect habitat for the jaguar. Today we will explore and enjoy the wild and beautiful Pantanal.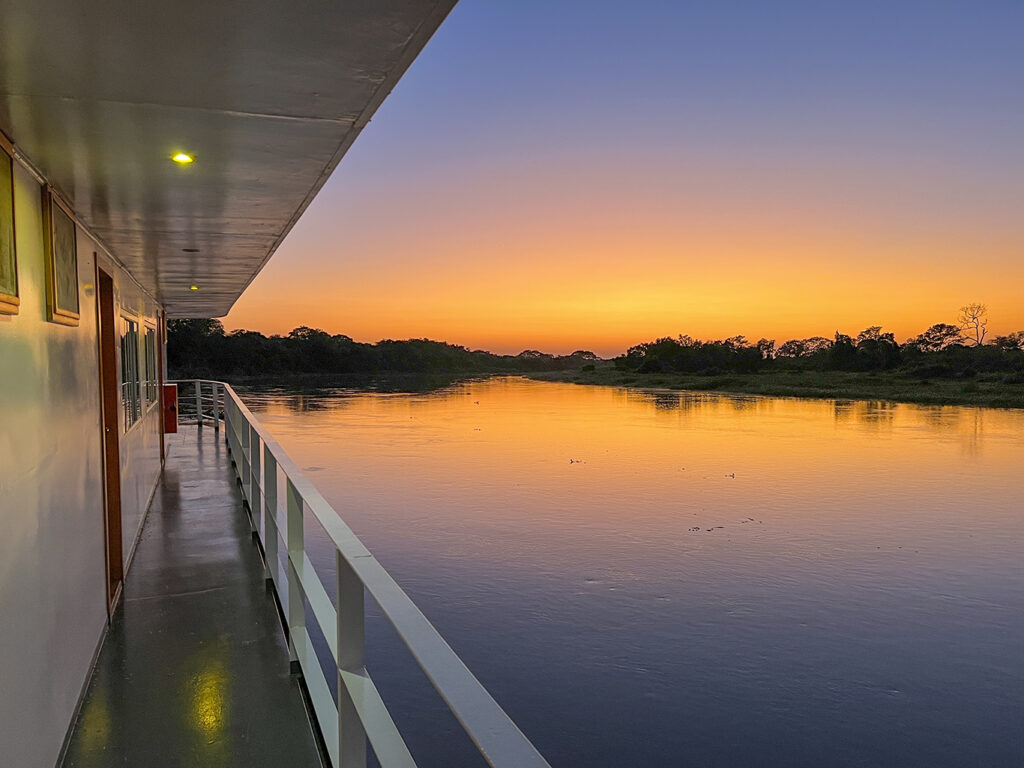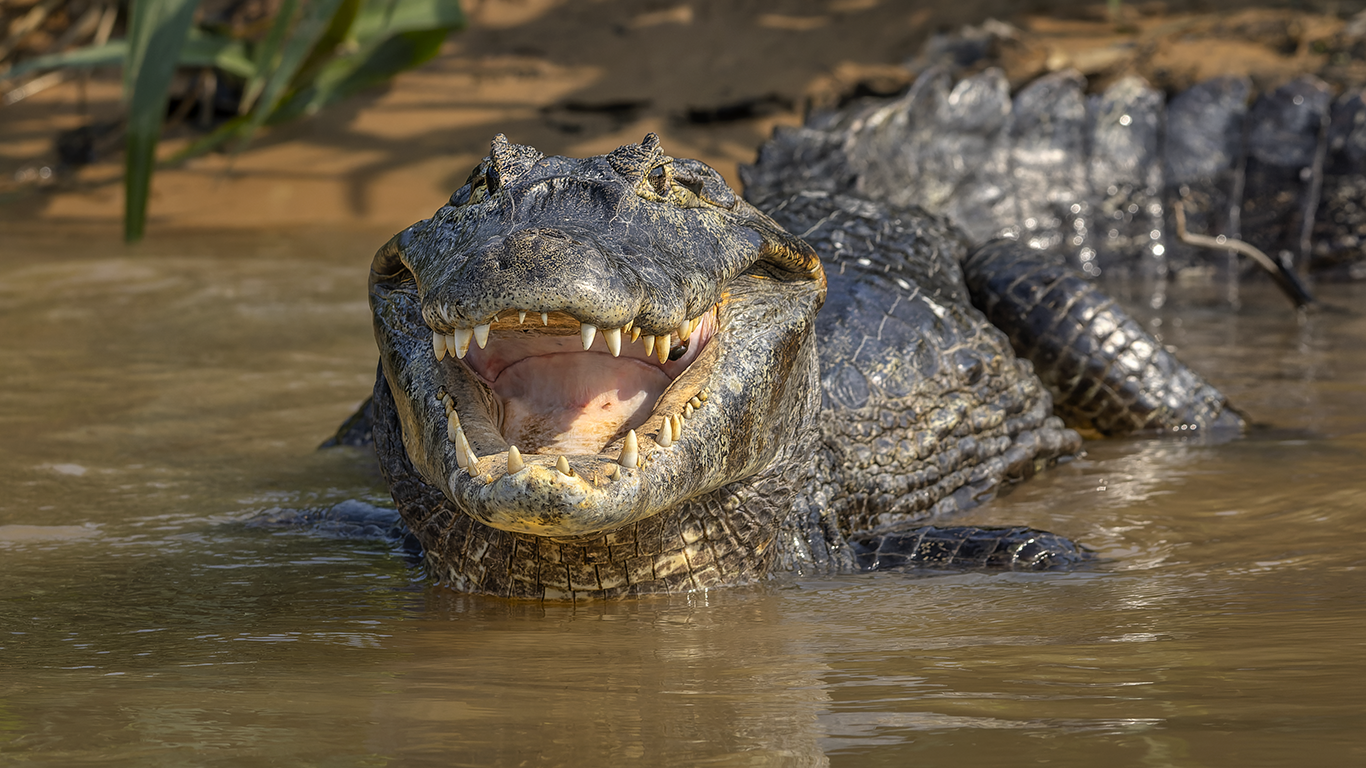 Our boat captain was a very quiet man. Often protecting his face with a bandana and his eyes with dark sunglasses. Due to my lack of speaking his native language and his inability to speak mine, we became experts in the art of hand gestures. However, there was one word that we both shared with full excitement. "Jaguar". I have always had a fairly good knack for spotting wildlife but, compared to our boat captain, my ability of spotting Jaguars in the thick jungle was not even close to the his abilities. He was also an expert in navigating our boat through the river channels of the wild Pantanal, often having to avoid fallen trees and masses of floating vegetation.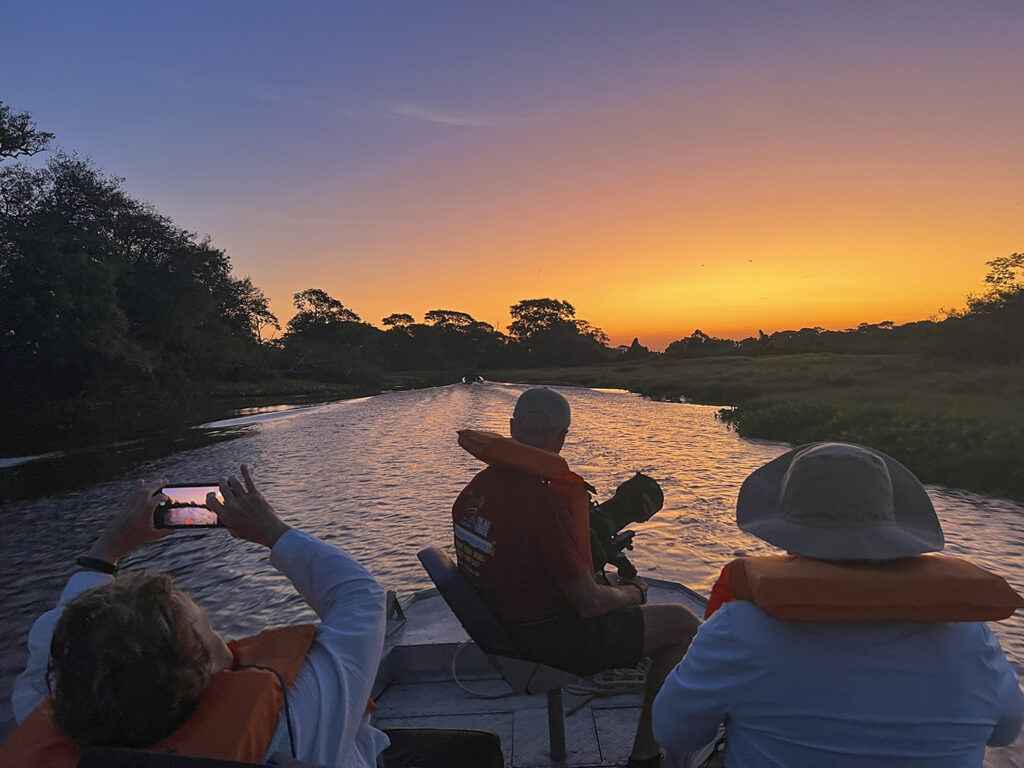 Enjoying our journey up the Cuiaba river, stopping to photograph monkeys, birds, and caiman, along the way, we eventually reached the mouth of the Caxiri channel. A narrow and sandy opening led us into the channel and we began our adventure down the winding and narrow waterway that would eventually empty back out into the main river. A few years back I had seen two jaguar brothers in this area and I was hoping to find at least one of them again. I was curious to see how the young jaguars had grown and flourished. Just shortly after stopping to photograph a family of capybaras I glanced to the river bank in front of us. We were entering a very sharp turn and the river bank was tall and steep. As I scanned the thick vegetation upon the tall river bank, I spotted a jaguar looking straight at us. Before I could get a word out our boat captain beat me to it. "Jaguar, Jaguar", he said. 
I had my Canon R3 with my favorite Sigma lens, the Sigma 60-600, resting on my lap and ready for action. I quickly brought the camera to my eye and managed to get a few images before the jaguar moved into some thick bushes. I immediately realized that this must be a shy jaguar and possibly a jaguar that has not been spotted or photographed previously. We slowly worked our way around the river bend and continued to look for the jaguar. With no visual, we decided to wait a few minutes and see if she reappeared. I saw an area on the riverbank that looked to be a trail through an opening that came to a stop at the rivers edge. I asked the caption to slowly back the boat up so that I could see down the trail. In doing this we spotted the jaguar laying down on the trail just far enough back that we could not see her from our previous position. Again I began to photograph her and at this moment our other boat arrived. The  guide and I came to the conclusion that this was a new jaguar to the area. She was shy and did not stay around for too long. We felt she was a jaguar that had not been seen or photographed before. 
That evening we touched base with the wildlife biologist and compared the images to the jaguars that have been discovered in the area. There is a complete list of photographs of the various jaguars along with their given names that help the biologists keep track of the jaguar population in the Pantanal. After confirming this was a new jaguar to the area, I was allowed to submit the photographs and present a name for the new jaguar.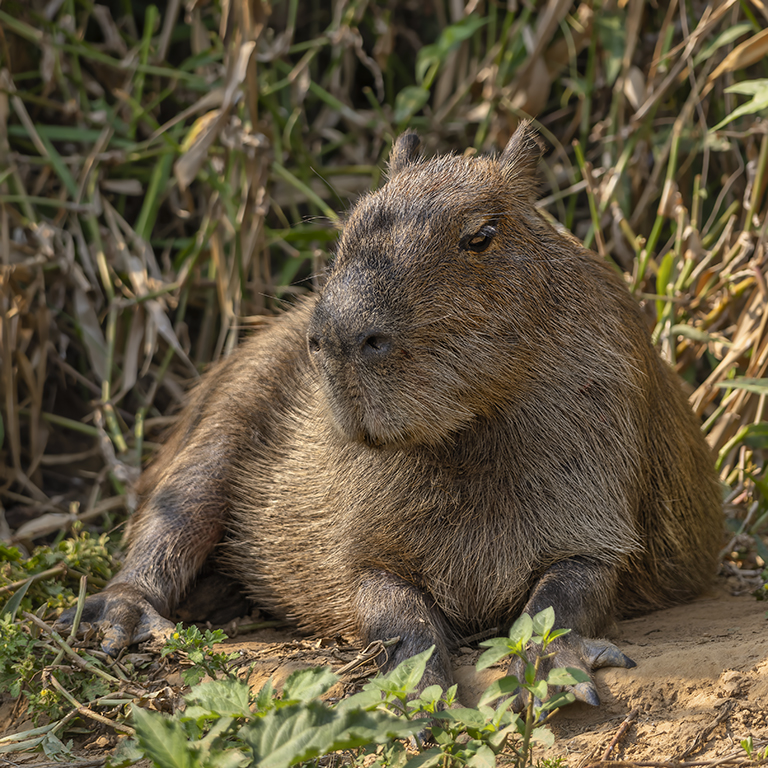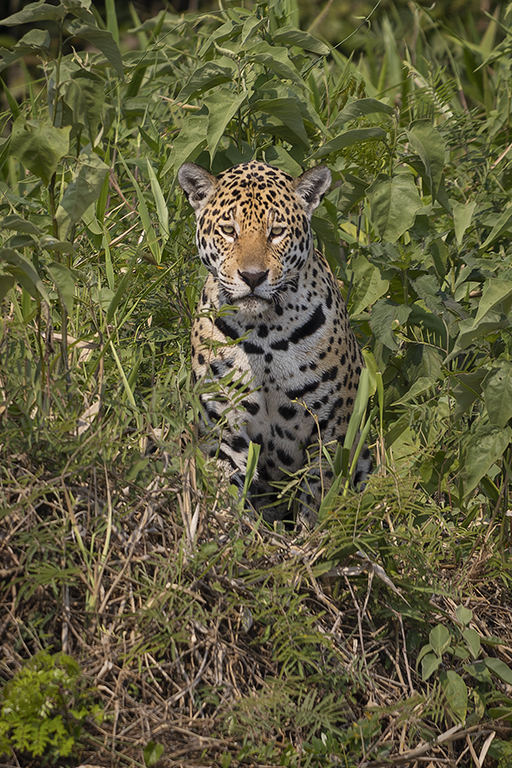 Why would we name a wild animal?  The Pantanal holds the largest concentration of wild jaguars in the world. The importance of studying and maintaining a healthy population of jaguars is vital to the continuation of this rare and beautiful species. Each jaguar is unique in appearance, having specific and identifiable markings and patterns helps the researchers and biologists to keep track of the well being of each individual jaguar. Such important details such as age, reproduction, habitat, diets, and interactions with each other as well as other species can be studied. The jaguar population within the Pantanal is a very important indicator to the over all health of the jaguar species. Therefore it is much easer to keep records and study information on a specific jaguar when it has a given name.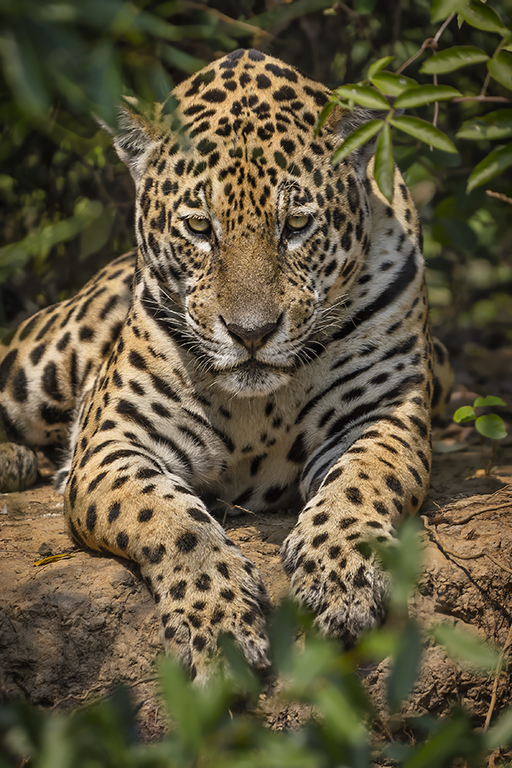 Why would I name a jaguar "Sigma"? I tried to share my reasons in writing this little piece of how I feel about my Sigma 60-600 lens. My travel companion and friend, indeed I am so grateful to you. The joy I have had, the happiness I have felt, the accomplishments you have given to me. So trustworthy and solid. In all that you have shown to me, close and clear, wide and fulfilling, bright and crisp. With approximately a million images, three cameras, over eleven country's, and several years of being my main lens, I do believe you deserve this special award. So in your honor I have named this amazing wild and beautiful jaguar "Sigma".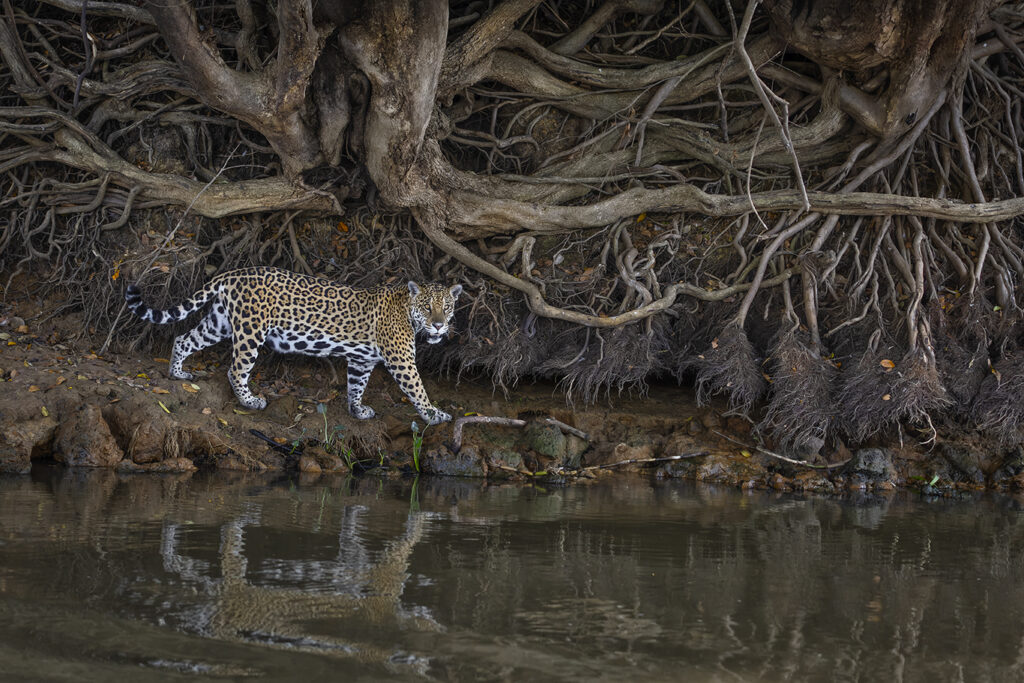 Being blessed with the honor of naming a wild jaguar with the purpose of helping their  population flourish goes beyond my wildest dreams. To explore such amazing places as the wild Pantanal, is an adventure beyond words! As our week in the Pantanal continued, we would end up having photographic opportunities that were incredible. With every outing both morning and afternoon we found and photographed many different Jaguars. If this journey is an example of how the Pantanal gets better and better each and every year, I can not wait to see what next year brings in the wilds of Brazil. A true wildlife photographers dream place.